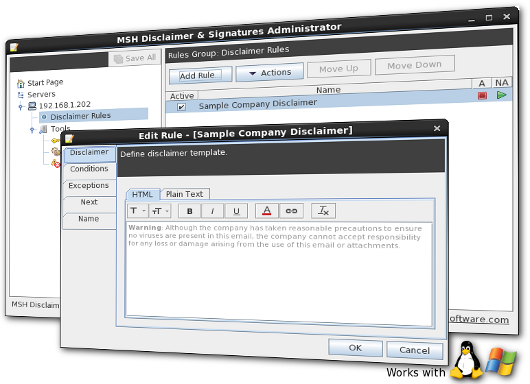 MSH Disclaimer & Signatures inserts signatures and disclaimers to e-mail messages that are processed on the mail server. Disclaimers are typically used to provide legal information, warnings about unknown or unverified e-mail senders, or for other reasons as determined by an organization.
Application lets you target disclaimers based on conditions and exceptions that are defined in disclaimer rules on MTA server. Disclaimer rules give you the flexibility to assign specific disclaimers to email messages based on business needs. For example, you could specify different disclaimers for internal and external messages or for messages sent by users in a specific departments or offices. However, when configuring multiple rules to apply disclaimers, carefully consider the rule conditions you use and avoid applying multiple disclaimers to the same message.
Features
Html and text signatures and disclaimers
Signatures placed under reply
Top and bottom disclaimer
No disclaimer duplicates
Built-in compose editor
Easy to use rule wizard
Variety of conditions and exceptions
Easy to install and configure
Zimbra, Postfix and Sendmail support
Integration with LDAP Directory Services
Integration with Microsoft Active Directory
Screenshots
Requirements
Mail Server
Zimbra 6.0+
Postfix 2.4+
Sendmail 8.12+
Download
| | |
| --- | --- |
| | Linux |

MSH Disclaimer & Signatures Milter


msh-ds-milter.bin (4.0 MB)

Download Now
don't forget to download desktop module
| | |
| --- | --- |
| | Linux |

MSH Disclaimer & Signatures Administrator


msh-ds-admin.bin (2.3 MB)

Download Now

| | |
| --- | --- |
| | Windows |

MSH Disclaimer & Signatures Administrator


MSH Disclaimer & Signatures.exe (2.4 MB)

Download Now
Release History
Demo mode
After installation application will be working in demo mode. Disclaimers will be added to messages which are sent from max 10 different senders and user can define only one rule.
Pricing/Buy
MSH Disclaimer & Signatures is licensed on a per server basis for Zimbra, Postfix and Sendmail. You need to purchase a license for each server that the product will be installed on.
| | | |
| --- | --- | --- |
| License Type | Qty. | Price |
| Server | | $795 |
Prices are listed in American dollars and do not include applicable VAT.
Prices are subject to change.
A license for this software is a one off license and is valid for the major version you purchase (i.e. 1.x) and all updates. The price of the program includes:
free software updates
email support
Applying Your License
After purchasing MSH Disclaimer & Signatures, you will be sent a license key by email. Instructions on how to apply your license will be attached to that email, but also can be found here.
Documentation
Go to MSH Disclaimer & Signatures documentation.
Support
If you have any questions or you need support do not hesitate and write to contact@mshsoftware.com.